Combining original music, DJ beats, singalongs, and turntable tricks, all synced to a custom edited video show.
Vynilyn Bio
The Hottest New Act From Las Vegas
Based in Las Vegas, the entertainment capital of the world, comes Vynilyn. It is the best of a DJ and a Band, with two live violins, a world-renowned DJ, choreography, synced lighting, turntable tricks,  a tailor made video show, and live vocals, all over custom remixed versions of your favorite songs.
Vinyl + Violin = Vynilyn
Consisting of Adrianna Shaw, (Rod Stewart, Celine Dion) Grammy Nominated Carissa Werner, (Michael Bublé, Bad Bunny), and cb shaw, (Rehab at Hard Rock, Caesars, Las Vegas) the three full-time professionals have joined forces to create an experience that transfixes the listener, engages the viewer, and moves the dance floor.
When not performing, Vynilyn is constantly in the studio, remixing classics, mashing up fresh new songs, remaking cover versions, laying down originals, filming music videos, and editing video mashups, to add to their vast catalog of material for their powerful live shows. They have built a loyal following on social media with millions of video views across multiple platforms.
Recently signed to Curtain Call Records, this trio has begun releasing singles from their huge catalog of music, combining all the excitement of their live show into their recordings.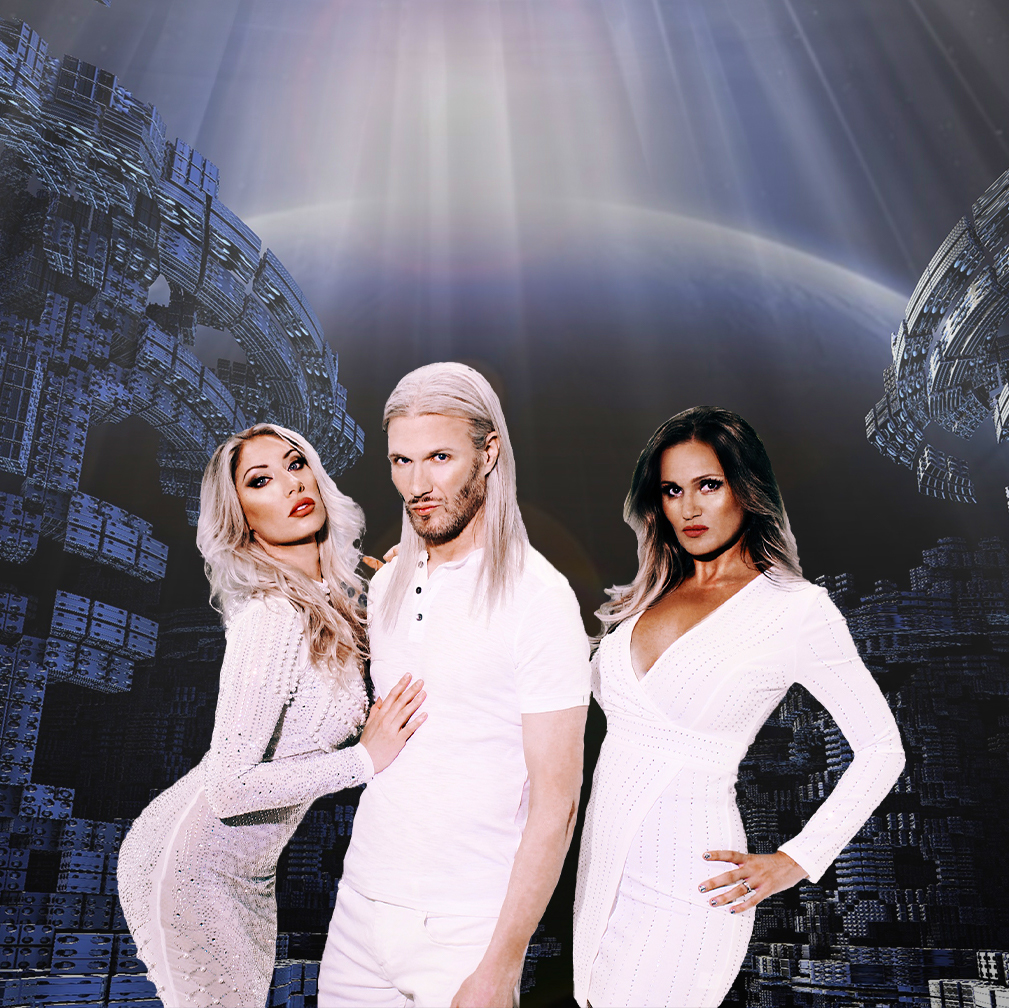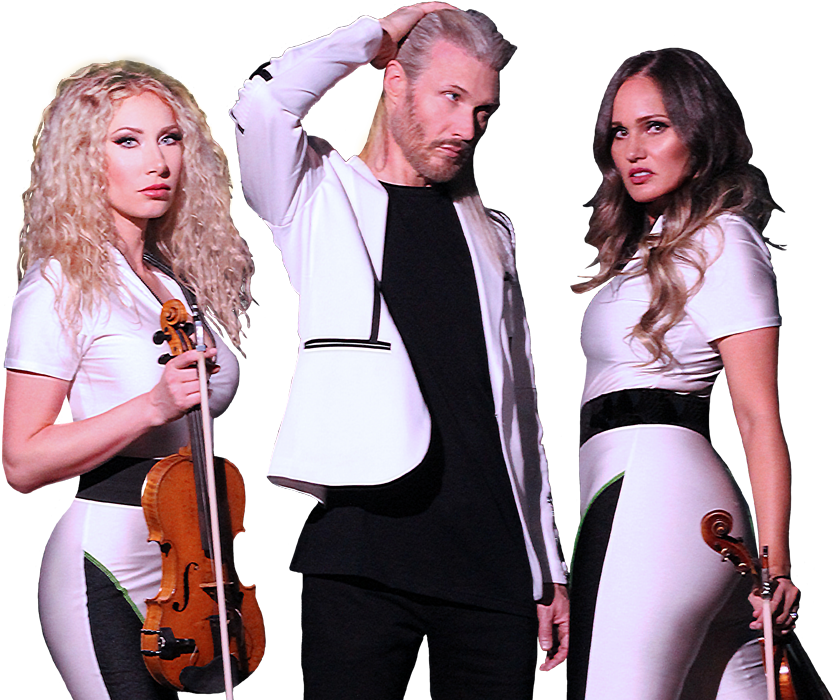 On the stage is where Vynilyn truly shines. Their live shows are mesmerizing spectacles of light, movement, and sound, combining the flowing prowess of two violin master players with the lightning precision and smooth, flawless transitions of a world-class DJ. This is all synced to a custom live video DJ show full of music videos, visuals, movie and TV samples, even cartoons and commercials, all blended and scratched perfectly in time and in key to the music.
The live show has something for everyone. Having built their show as a Vegas experience, Vynilyn created their spectacle to be accessible to a wide audience. From singalong classics to current party anthems, their unique events always leave the crowd cheering for more!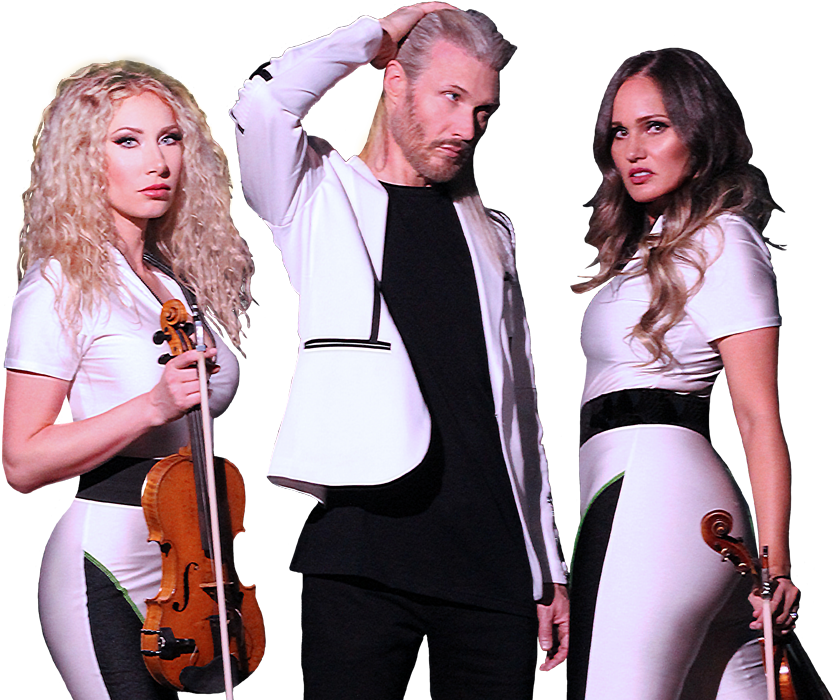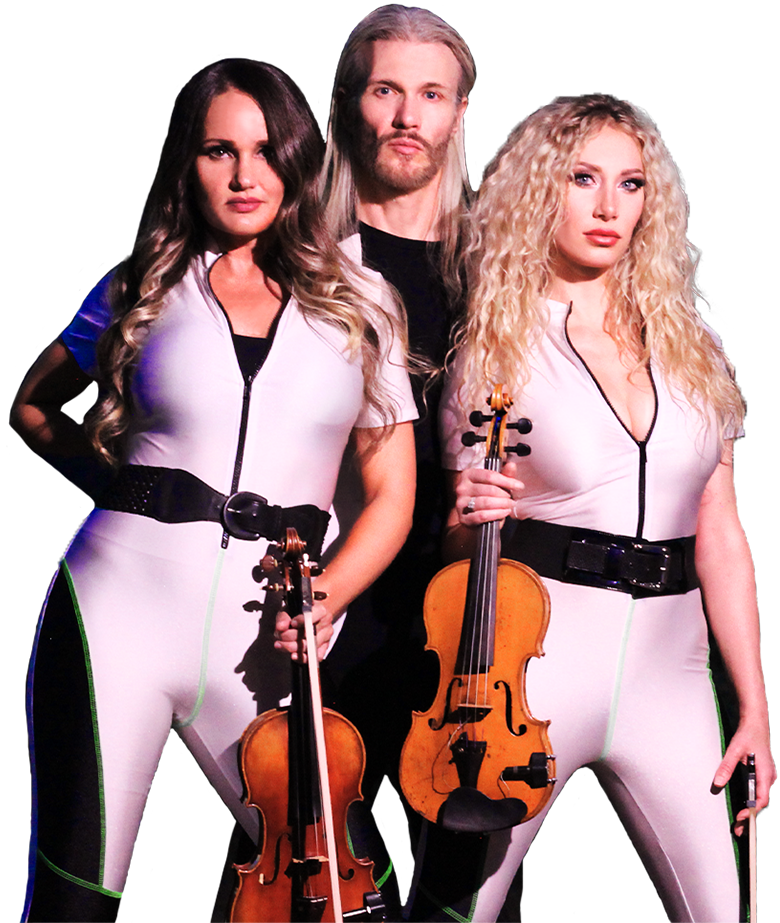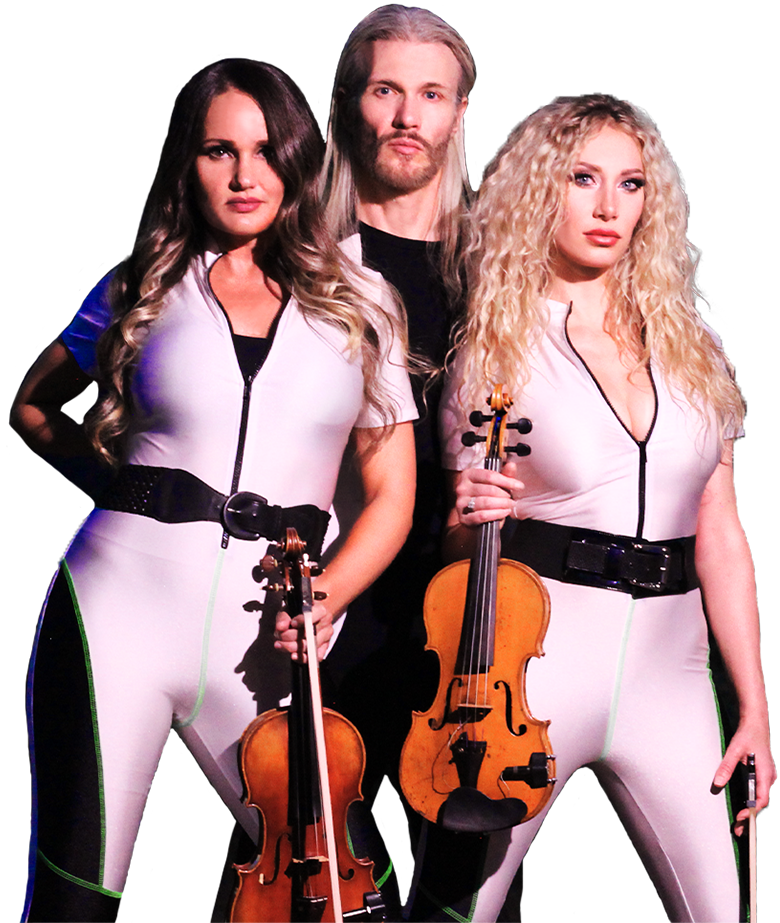 Since you can't come to Las Vegas right now, let's bring Las Vegas to you!
Although most corporations aren't flying participants to events during this time, you can still get world class entertainment for your virtual meetings and events. With a full interactive virtual production, Vynilyn have their own private studio with green screen, lighting, multi-angle professional cameras, sound, and visuals, to give your event a quality Vegas experience, right from the comfort of your participants own living rooms. With interactive chats, guests can communicate with Vynilyn directly, and each show is customized specifically for each individual client. They can create custom content for any event, anywhere in the world.
This is not only a simple solution, it is a cost effective one. Since your client or company doesn't have to pay for expensive meeting rooms, flights, hotel rooms, or meals, Vynilyn is a bargain for any virtual event. Theme parties, General Sessions, Kick offs, Award shows, Dance parties, Charities, Vynilyn can handle them all!
Vinyl + Violin = Vynilyn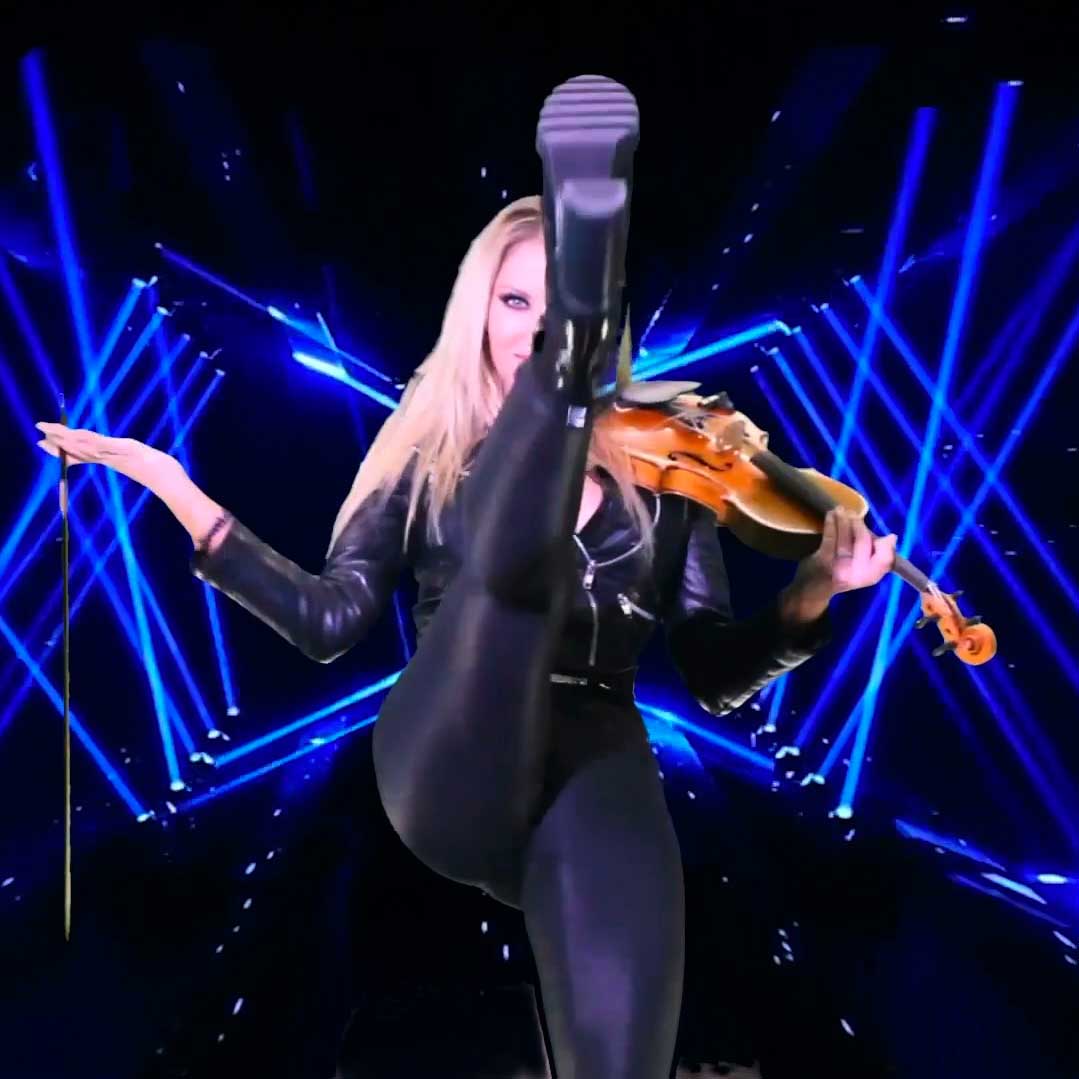 Adrianna
Starship Captain
Interplanetary Relations
Born in Las Vegas, Nevada, Adrianna has spent most of her life playing the violin. She studied classical music, but also learned the art of jazz improvisation from her father, Michael Thurber, a jazz guitarist. Immediately after graduating from the Grammy Award winning Las Vegas Academy of Performing and Visual Arts, she began working as a full-time professional musician. In addition to being a driving force behind Vynilyn, is also currently a member of Sir Rod Stewart's band, traveling all over the world.
She has performed with many other celebrity artists including; Pitbull, Andrea Bocelli, Celine Dion, Shakira, Stevie Wonder, Nick Jonas, Steven Tyler, Enrique Iglesias, Earth Wind and Fire, Cyndi Lauper, Gloria Estefan, Luis Fonsi, Richard Marx, Toni Braxton, Ronnie Dunn, Miley Cyrus, and many more!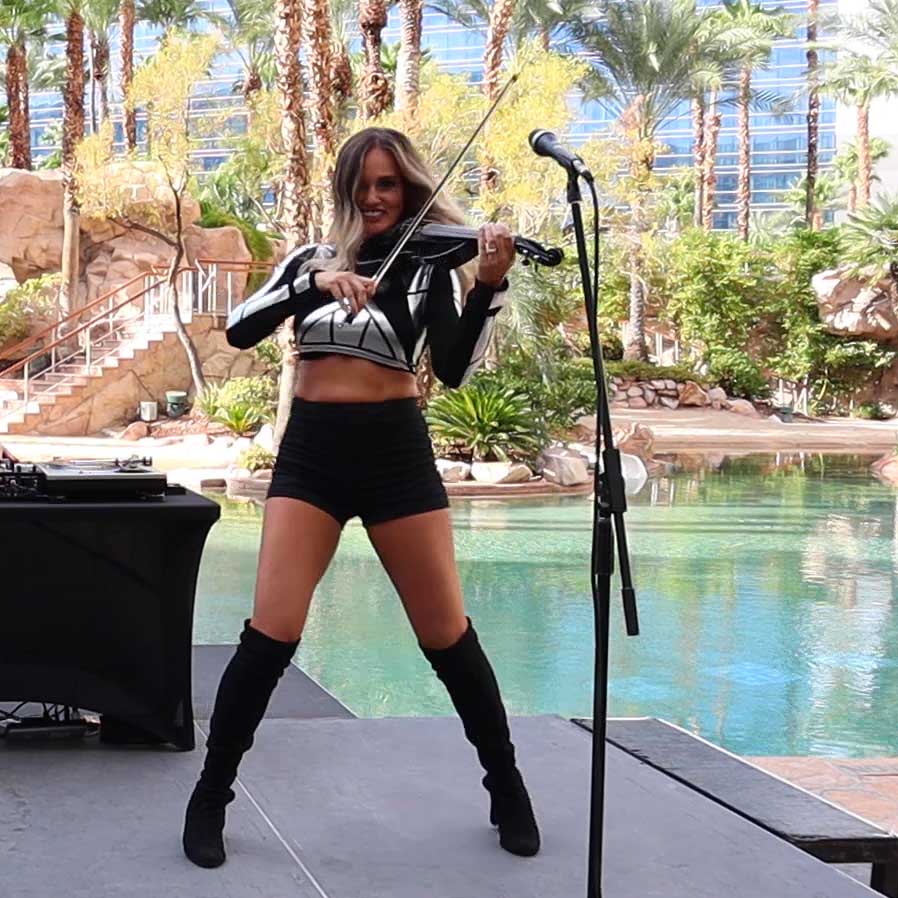 Carissa
First Mate
Humankind Research
Carissa was raised in Tucson, Arizona, where she began learning to play piano at age 5. She added the viola at age 7 and guitar at age 10. She continued studying all three instruments throughout high school and college. Carissa was also a member of Voices Unlimited throughout high school, which is an audition-based show choir that competed nationwide. She attended three summers at Northern Arizona University's summer music camps during high school, where she was able to take master classes for viola and voice.
While studying music at Northern Arizona University in Flagstaff, Arizona, Carissa played in the NAU Symphony Orchestra and Chamber Orchestra. After earning her Bachelor's Degree in Music Education, she joined the Salt Lake Symphony as a violist and regularly performed with the Salt Lake Chorale. After, Carissa moved to Las Vegas to accept a position as an elementary music teacher for the Clark County School District. She continues to teach full time, as well as perform in several professional string groups, and has shared the stage with great artists such as Toby Keith, Richard Marx, Laura Pausini, Michael McDonald, Train, Taylor Hicks,
Cheyanne, Bad Bunny, and many more. She has also performed live on the Latin Grammys and the Latin Billboard Awards.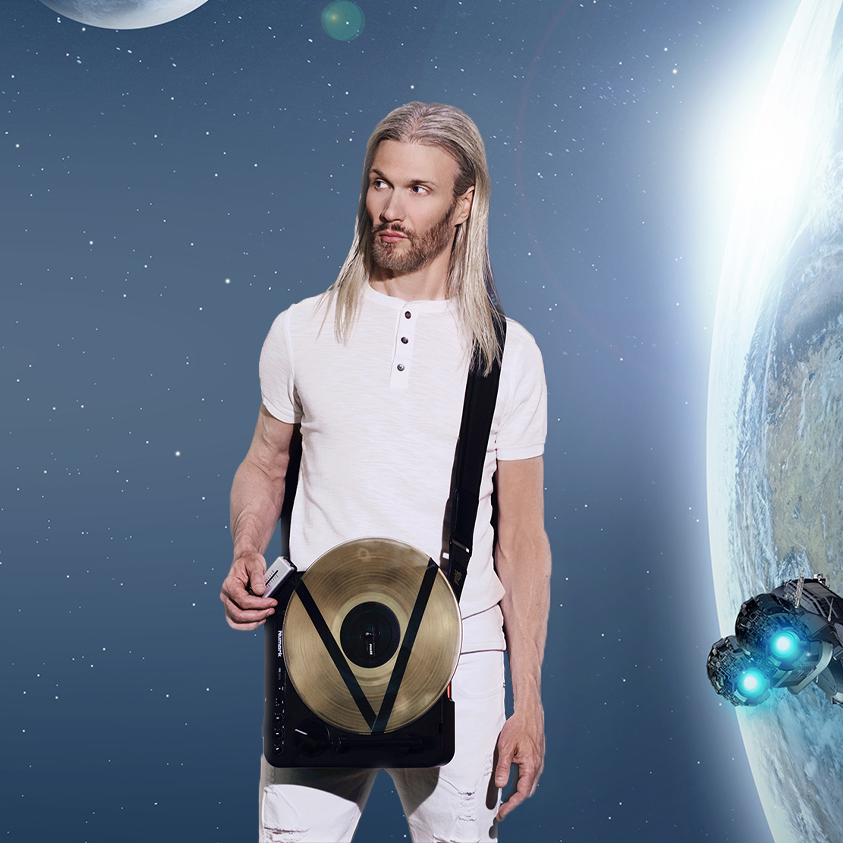 cb
Starship Pilot
Archiver of the NASA Golden Records
Originally from Vancouver Canada, cb has been a full time Las Vegas resident DJ for the past 10 years. Known for his flowing blonde locks as much as his flowing, flawless mixes, cb is one of the few DJs who mixes entirely harmonically, creating perfect blends of songs in compatible keys, which allow the listener to seamlessly transition from song to song without hearing a clashing note, or skipping a beat. Smoothly blending genres, and mixing classics with fresh new beats, cb shaw will constantly surprise you, and have you cheering for that long forgotten gem that was your favorite song!
cb is also a pioneer of video remix DJing, and considered a legend in the art form by his peers. All the way back in 2008, DJ Mag listed cb shaw as one of the top 15 Video DJs in the world, as part of their prestigious annual "Top 100" list. He held a 6 year long Residency at the world famous "Rehab" pool party at The Hard Rock in Las Vegas, and has shared the stage with dozens of superstars; Justin Bieber, Kesha, Ludacris, Billy Idol, Old Dominion, Lynyrd Skynyrd, Rick Springfield, Train, Members of the Black Eyed Peas and Imagine Dragons, Nelly, Flo Rida, and Pitbull, just to name a few.
When the NASA Voyager was launched in 1977, it contained The Golden Vinyl Records, which were encoded with the sights and sounds of life on Planet Earth. Voyager has been silently drifting through space for the past 40+ years, and recently, two traveling Pleiadian Nordic Blonde Aliens intercepted Voyager and the Golden Records. These Aliens fell in love with Earth and all of its beauty.
Sent on a mission to Earth to communicate Love, Peace, and Prosperity for Humanity, VYNILYN has remixed the content of the Golden Records, along with Earth's video and audio transmissions of the past centuries, to create art that reflects Humanity with all of its beauty and all of its flaws, the wonderful highs and lows of a glorious civilization on the brink of becoming Interplanetary.
Now bonded in a symbiotic relationship with their three human host forms, VYNILYN is able to communicate to humanity through the human bodies they now inhabit, and experience what it is like to be alive on this planet in this time and space.
Pairing the Golden Records with the Violin, the one instrument that is most like the human voice, the three Pleiadian Aliens have created a combination of sights and sounds meant to heal your soul, free your mind, and move your behind.
Vinyl + Violin = VYNILYN