VYNILYN's first single now streaming!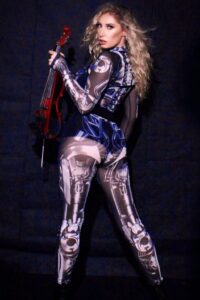 Vynilyn's first single "Guardians of the Spacehog" is now streaming on all platforms!
VYNILYN's Guardians of the Spacehog is an interpolation of Spacehog's 1996 hit "In The Meantime" which was featured in the new Guardians of the Galaxy Vol. 3 Movie. It's the fist single the unique group from Las Vegas has released. They consist of two violinists and a DJ, with all three sharing vocal duties and playing multiple instruments in the studio.
From singer / violinist Adrianna: "Our DJ / Producer cb shaw has hundreds (probably thousands) of loops and beats started." Late last year, Adrianna and cb went to go see a movie. "We were already in talks with our label, Curtain Call Records. We were watching the previews, and the trailer for the new Guardians of the Galaxy 3 movie came on." The whole trailer is cut to a stripped down version of "In The Meantime". cb grabbed Adrianna, and said: "I've already got that looped up and ready to go. That's our first single!" No sooner had he said that, a character in the trailer uttered one of VYNILYN's favorite catchphrases: "We come in Peace!" It was meant to be. It's fitting because the whole theme of VYNILYN revolves around their personas as Aliens. Space Hog's album was called "Resident Alien", and of course, Guardians of the Galaxy is full of beings from other worlds. "I don't believe in coincidences." says cb shaw.
Not wanting to use any samples, the group went to work re-creating all the instruments from scratch. "We sped the song up, and as we did, it became happier and happier. That was an unexpected surprise!"
Next came the task of writing the rap verses that fill the gaps between the monster hook , says shaw. "The first line of any song is often the hardest line of any song to write. And since I knew this was going to be our first single, it was even harder to write. All our lyrics are based on the idea that we are Aliens from the Pleiadian star system, so I wrote it from two perspectives. One: That the first line of any song is always the hardest to write, how will the audience perceive it, etc. but Two: The idea of an Alien making first contact with a new planet, and how that Alien will be perceived.'
"We purposely chose lyrics that don't use any profanity or graphic sexual imagery. We feel that the market is flooded with explicit content. And we've always believed in going the opposite way of the direction the masses are going. Over the past few years on average, at least 2 out of every 3 songs on the billboard charts have explicit lyrics. We think using profanity to make an extreme point is fine, but when 2 out of 3 songs are littered with curse words, it starts to lose its bite. We want to make music that you can enjoy with your families, and friends, and not be embarrassed to sing along in public because the song has offensive words in it."
"We also made a reference to P.L.U.R. in the track. It's an acronym for "Peace Love Unity and Respect", which is something the Rave community has used as its mission statement since the early 90's. Even through the rise of the mega festival and the Superstar DJ, PLUR still exists in the the hearts and minds of the true underground fans of Dance Music. It's a way to identify a Weekend Warrior from a real Raver. Almost like a secret password of real Dance Music fans."
There's also a few of VYNILYN's catchphrases in the track, lyrics that repeat in many of their songs, including "There is only space, and there is no time." and their tagline: "We come in peace".
"We went for a classic "golden era" rap group style on this track." says Carissa. "These days, when artists do a collaboration, they just email their entire verses to each other and don't even meet in the same studio. We wanted to pay tribute to classic rap groups like Run DMC and Beastie Boys, who finished each other's sentences, traded rhymes back and forth, and really had to work hard to blend their voices together." We also haven't heard a male and female rap back and forth like that before.
Adrianna made her debut as the bassist on this song. When she was in Rod Stewart's band , she had been playing the bass during the opening number of the show, and thought it would be fun to pick up the instrument. cb bought her the exact bass she used in the Rod Stewart show as a birthday present. The same day, she learned the bassline to "In The Meantime." It has quite a complicated bass part, but she picked it up in a manner of minutes. All that classical training paid off! She recorded it the next day, and it is certainly a highlight of not only the song, but the music video as well.
There is a little Easter Egg in the music video for the fans of the original Spacehog song. The video begins with a shot of a classic rotary dial phone. The original "In The Meantime" has a sample from "Telephone and Rubber band", which has the unique sound of a UK ring tone and busy signal crossed up. Since no samples were used in this song, cb shaw spent several hours tracking down the two original telephone sounds, blending them together. Adrianna then helped him tune them to match the track. She had an interesting observation, "When you blend the ring tones together, they create a unique pitch that could be two different notes depending on your perspective. It's kind of like that 'Is the dress blue or is it gold?' meme."
Lastly, in the music video, there is a "reveal" that you simply have to watch. Writing about it would simply spoil the surprise. It's certainly something we've never seen in a music video before. No spoilers!
End of transmission.
Click here to stream!