The Hottest New DJ and Violin Act from Las Vegas: Vinyl + Violin = Vynilyn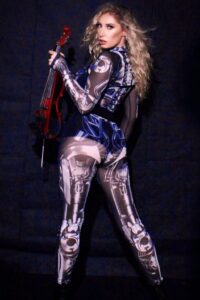 Based in Las Vegas, the entertainment capital of the world, comes the DJ and violin act, Vynilyn. It is the best of a DJ and a Band, with two live violins, a world-renowned DJ, choreography, synced lighting, turntable tricks, a tailor made video show, and live vocals, all over custom remixed versions of your favorite songs.
Vinyl + Violin = Vynilyn
The events business has changed. For you to be relevant in this new era,  you should be booking talent that is fresh and exciting.  Keep watching this video, and I'll introduce you to the hottest new act from Las Vegas.
From the entertainment capital of the world, comes Vynilyn. It is the best of a DJ AND a Band, with 2 live violins, an international DJ, choreography, lighting, music videos, turntable tricks, and live vocals all over custom remixed versions of your favorite songs.
Vinyl + Violin = Vynilyn
Vynilyn is made up of full time professionals of the music industry, with resumes too long to name, and have worked with many of your favorite artists and brands.
Unlike any other musician and DJ acts you may have seen, this is a fully rehearsed, choreographed live show with all the excitement of a band, and the consistent energy of a DJ.
The DJ and Violin Stage Experience
Vynilyn uses custom made, light up violins, that are pre-programmed to each individual song. When combined with the accompanying Video DJ show, it creates an arena-level experience that will transfix any audience!
From elegant dinner parties, to general session kick offs, to high energy dance parties – Vynilyn has the look, and the soundtrack for your entire event, from doors to close!
It's time to bring the DJ and violin Las Vegas experience to you!
Booking
We understand that the Stage performance is only a small part of the VYNILYN experience. Click here to go to the Vynilyn booking page.
From the initial contact, to pre-production, to sound check. and all throughout the performance, you will get consistent, reliable, worry-free result that will translate into a seamless, effortless experience for you and the end client. You'll get the win, and the audience will love it!  
So let us make the entertainment side of your business easy. You can concentrate on the rest of your event, because true professionals have you handled with style.
Email Jon Adcock bookings@vynilyn.com, or call or text +1 (407) 402-7429. He'll send you an Electronic Press Kit, an agent friendly version of this video, and answer personally any questions you have about this amazing act. Get in touch now, and let's start the conversation about how Vynilyn can help you in the future. Let's get started today!